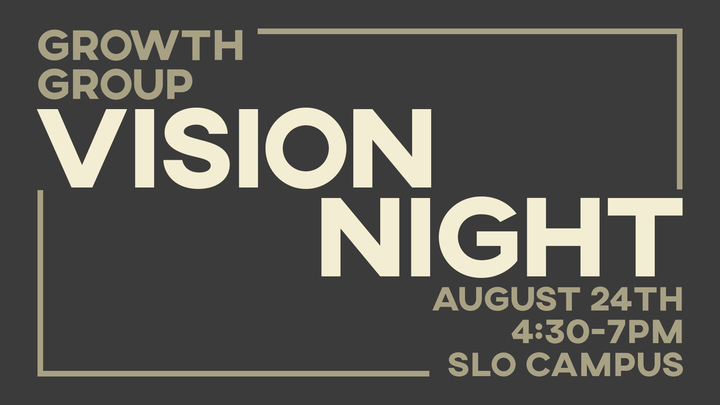 Growth Group Vision Night
Dates & Times
Aug 24, 2019

4:30pm - 7:00pm
Attendee Types
Adult (Dinner + Vision Night)

Free

Adult (Vision Night Only)

Free

Child (6th grade and younger) (Dinner + Childcare)

Free

Child (6th Grade and Younger) (Childcare Only)

Free
About Growth Group Vision Night
You are invited to join us for a catered thank you dinner and Growth Group Vision Night on August 24th!
The landscape of our community is changing at Grace Central Coast and we have a growing desire to identify, equip, and empower all our Growth Group leaders. At this event, we will be discussing a fresh vision for our new Growth Group leaders, upcoming changes to Growth Groups across all campuses, a new structure of pastoral staff, training for current and new leaders, and more!
This is a don't miss evening!
If you are married, we would love for you to bring your spouse along, and those around you that you think would be interested in leadership or that you are currently training up to become future leaders.
Childcare through 6th grade will be provided. Please RSVP for all family members attending. We will be ordering dinner from Old SLO BBQ, so we will need to know how many people to order for.
Thank you and we really hope to see you there!
Date: August 24th
Location: GraceSLO Campus
Time: 4:30 pm for Dinner, 5 -7 pm for the Vision Night
We hope to see you there!