MOPS
September 12th - May 8th, 2018
$53 - $93
We are so excited that you are interested in MOPs for the 2017-2018 year. We will meet at Grace Church in SLO the second Tuesday of each month from 9-11:00 am. Childcare is provided for kids ages 0-5. The cost for the year is $90, which covers childcare, crafts, and the MOPS international membership fee. Scholarships are available. Contact mopsslo@gmail.com to request a form. We do not want cost to keep anyone from joining. Please fill out the form below to start the registration process. Just put the kids down that will be needing childcare. If you do not have a home church, simply put 'none.' You do not need to go to church to be part of MOPs.
Our registration party will be Tuesday, August 22 at Mitchell Park. Drop by anytime between 9 and 11 am to pay your registration fee, meet the leadership team, and connect with other moms.
Our first official meeting is September 12.
Join us as we explore what it means to be free indeed. Motherhood is hard. Let's not do this alone. Find your tribe of women at MOPS SLO. Questions? Email us at slomops@gmail.com
Women's Winter Bible Study 2018
January 18th - May 10th, 2018
$25
Starting January 18th
10am - 12pm at GraceSLO
$25 Semester Fee due on the first week of study
Does your knowledge of the Old Testament feel like a grab bag of people, books, events and ideas? How many times have you resolved to really understand the OT? To finally make sense of it? Perhaps you are suffering from what Sandra Richter calls the "dysfunctional closet syndrome." If so, she has a solution. Like a home-organizing expert, she comes in and helps you straighten up your cluttered closet. Gives you hangers for facts. A timeline to put them on. And handy containers for the clutter on the floor. Plus she fills out your wardrobe of knowledge with exciting new facts and new perspectives. The whole thing is put in usable order--a history of God's redeeming grace. A story that runs from the Eden of the Garden to the garden of the New Jerusalem. Whether you are a frustrated do-it-yourselfer or a beginning student enrolled in a course, this book will organize your understanding of the Old Testament and renew your enthusiasm for studying the Bible as a whole.
Schedule:
January 18: Intro, Week 1

January 25: Week 2

February 1: Week 3

February 8: Week 4

February 15: Social

February 22: Week 5

March 1: Serve Day

March 8: Week 6

March 22: Brunch

Spring Covenant Membership Class
March 10th, 2018
Thank you for registering for our Covenant Membership Classes. We are excited that you are interested in connecting and committing here at Grace Central Coast.
Sign up below for our one day class on Saturday, March 10 from 8:00am-12:00pm. The class is held in Founder's Hall.
Our Covenant Membership Class will cover these topics:
Who is Grace Central Coast? What we believe & teach at Grace Central Coast All about Covenant Membership at Grace Central Coast Our Grace Central Coast Covenant For many, much of what is covered in the class will be familiar, but we expect you will learn a few new things and are reminded of many things. For others, what is covered will be brand new. Because of the diversity of Grace Central Coast and to insure we all get "on the same page", we are requiring all who desire to commit through Covenant Membership to attend the 3 sessions (completed in 1 day).
We want to help everyone get connected and feel at home here at Grace Central Coast and realize that in a larger church, sometimes this can be challenging. For this reason, we are limiting Covenant Membership Classes to 25 people.
We look forward to seeing you there and getting to know you.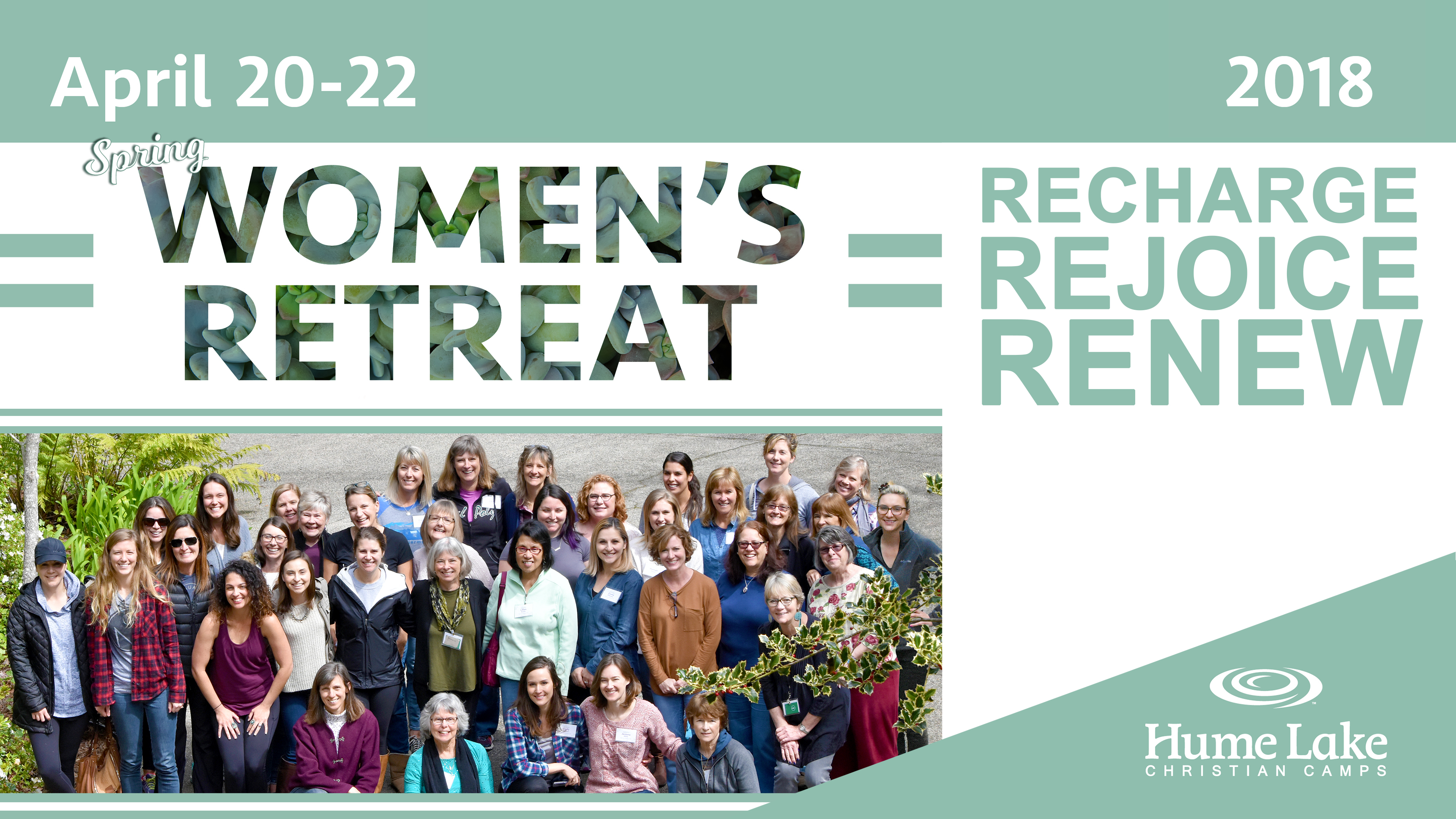 Women's Retreat
April 20th - April 22nd, 2018
$215 - $265
RECHARGE. REJOICE. RENEW.
The Women's Retreat provides a weekend with new and old friends sharing times of fellowship, reflection, and laughter. We stop at nothing to provide solid Biblical teaching, fabulous food, a variety of recreational activities, craft sessions and inspiring worship.
See Hume's website for more details on this event
See last year's Retreat Pictures HERE
Dates: April 20-22
Lodging Options:
Economy: $215
Standard cabins and dorms
Sleeps 5-10 guests comfortably
Linens provided
Bathroom attached or within walking distance
Standard: $265
Similar to a large dorm room
Sleeps 5-10 guests comfortably
Linens provided
Full bathroom
Non-Refundable Deposit of $75 due upon Registration